Obituary for Glenice Maureen Bond
Glenice Maureen Bond age 81of Idaho and a former longtime Sturgis resident passed away peacefully at Schneidmiller Hospice House in Coeur d''Alene Idaho on January 2, 2018 with her family by her side.
Glenice (Sagraves) Bond was born in Soldier, Kentucky at her home on January 30, 1936 along with her twin brother, Venice. Sadly he only survived a few days. Her parents were Zera (Mabry) Sagraves and James (Wilbur) Sagraves. Glenice had 2 older brothers Chalmer (wife, Lillian) Sagraves, Walden (Jack, wife Enola) Sagraves. She also had two older sisters Venetta (Sagraves, husband Elva) Eldridge and Shelma (Sagraves, husband James) Adkins. All of whom have preceded her in death. She loved to spend time with her brothers and sisters and their families, many of whom continue to reside in Eastern Kentucky. Her beloved nieces and nephews stayed in close contact with her and whenever able, visited her and her husband Roy. Glenice and Shelma especially loved to laugh their way through every moment together.
Glenice and Roy Bond met at Olive Hill high school and began their married life in Kentucky with her at the age of 15 and Roy 17. They moved north to Wisconsin for employment opportunities and then to Michigan where they lived for 40 years. They were members of the Sturgis Wesleyan Church and were active in church community. Roy was lovingly by her side at the time of her passing and his final words were in love and anticipation of seeing her again someday.
Glenice worked various retail and secretarial jobs. But her favorite job was working with pre- schoolers at a church nursery school. She loved that children were so candid and delighted in telling stories of them "tattling" on their parents. Her one "claim to fame" is that she came in ahead of Tom T. Hall in a singing contest in their younger years.
To say that Glenice was a loving wife, mother, grandmother, great-grandmother etc. is an enormous understatement. She loved in a way that was genuine, pure, selfless, unconditional and she was always present and attentive to whomever she was with. She did not speak unkind words about anyone, even if they deserved it and sought to bring peace and kindness to everyone she met. Her real talent and way of demonstrating love was through her cooking. When she was not actually cooking, she was thinking about cooking but always with the intent of feeding others. Her children were careful not to announce in advance when they would arrive to see her as she would insist on having a full meal prepared upon arrival even when she lost her ability to cook. In those cases, her husband Roy was "coached" about what to prepare for guests. She collected recipes like they were gold coins and with the advent of social media she had a new and fun way to collect and "share" her love of cooking. Recipes were often jotted down on envelopes, 3 x 5 cards, napkins and just about anything she could find. Unfortunately, these gems often did not include measurements or instructions. She could discuss the details of dishes and menu options for hours with anyone interested. Her sons "inherited" her love for cooking as they all became quite accomplished in the kitchen. Her daughters, although fully capable were not so fortunate.
She is survived by two sons Jeff (Cindy) Bond of Sandpoint Idaho, Randall (Rhonda) Bond of St Maries, Idaho and two daughters Lisa (Don) Hester of Hope, Idaho and Lori Webb of Constantine Michigan. Tragically she was preceded in death by her second son Barry Bond of Sandpoint, Idaho. They were very close and even though distance often kept them apart, their love never changed. His favorite words to her upon leaving for his adventures to Alaska were of course, "I love you" and "If I don't see in the future, I'll see you in the pasture". There is no doubt that he has his big arms around her now giving her one of his famous "bear" hugs. Glenice was proud of all of her children and considered them her greatest accomplishment in life. As much as she loved her children, she managed to love and cherish her grand-children even more. Tiwi, Ria, Ali, Nick, Haley, Bronwyn, Amber, Ashley and Priscilla were the jewels in her crown. She would and did give everything she had to each and every one of them. Glenice and Roy lovingly gave all of themselves for the well-being of their grandchildren. Each of them have their own special place in their hearts and especially Grandma's. With each great- grandchild her heart somehow managed to grew even bigger. Glenice Bond truly leaves a legacy of love. She will be greatly missed by everyone who knew her.
To send flowers or a remembrance gift to the family of Glenice Maureen Bond, please visit our Tribute Store.
Events
Event Information
Services have taken place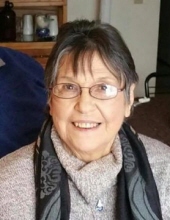 Thank you for sharing your
memory of Glenice
Provide comfort by sending fresh
flowers from our local florist.
No thanks, please don't show me this again.